Bridging the Gap to Care at Home
"Healthcare to Homecare" – Designed to meet the needs of caregivers and care seekers struggling to discover how to adapt to providing healthcare at home.
Help for Those Learning to Cope with Healthcare Challenges at Home
Healthcare to Homecare (HTH, Hctohealthcare) provides family caregivers and individuals coping with the challenges of personal health conditions or injuries quick access to information about managing healthcare needs at home. The author, Donna Steigleder, shares insights from her personal experience as a family caregiver, registered nurse, and member of a healthcare organization's leadership team. Donna designed the website to help new caregivers understand the world of caregiving and its impact on their lives while learning the skills they need to provide care.
Caregiving incorporates mental, physical, and emotional care; sometimes all at once.  The physical and emotional toll may come as a surprise to a new caregiver. Donna offers suggestions on coping with these challenges based on her experience and that of other caregivers.  She shares practical ideas on where to find supplies and how to contact valuable resources necessary.
It's all here in one place. Take a look and if something you need is missing, send me a request to add it to DonnaSteigleder@hctohomecare.com.
Healthcare to Homecare is full of information on topics of interest for anyone providing care to another person or themselves. New caregivers have much to learn as they begin their journey. Experienced caregivers sometimes need help with the introduction of new symptoms or treatments plans. HTH provides resources and information in a way that makes it quick for you to find. Topics are grouped into categories and further separated by subjects.  Links to categories, topics, and subject areas are through the main menu or you may click on the "Learn More" buttons.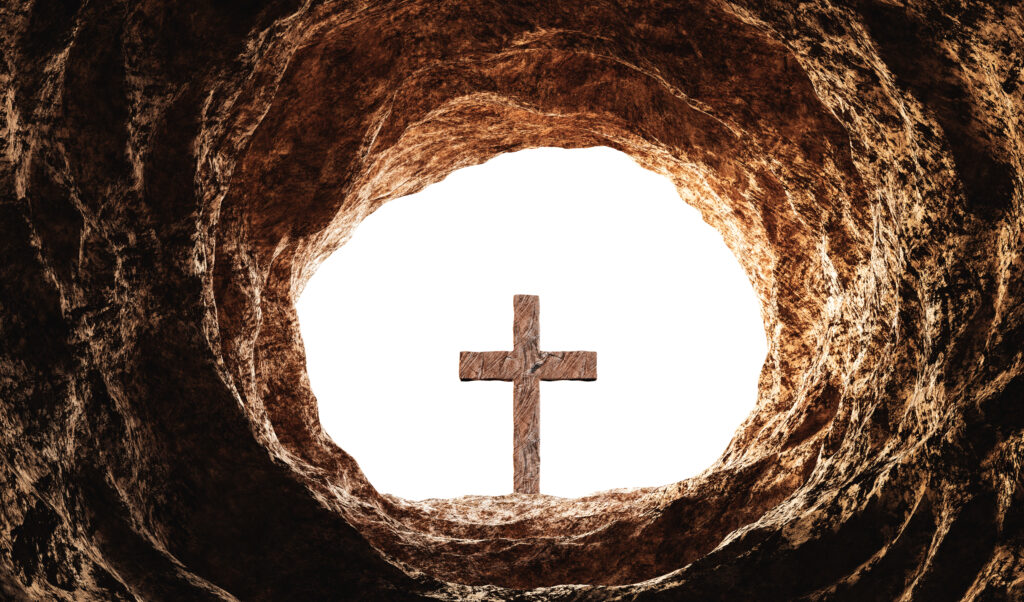 After her retirement, Donna felt called to take the knowledge she acquired through nursing, caregiving, human resources, home health, and healthcare management and develop a centralized resource for caregivers. She felt God gave her the green light for creating a caregiving ministry through the many positive comments received as she shared her idea with others.
"Mission" includes information about her faith, credentials as a caregiver and healthcare provider, and details about her personal background. Furthermore, Donna tells how her faith provides her strength throughout her caregiving journey and how it can do the same for others.
For those interested in building a bridge between the church and caregivers and those with special medical that is used regularly, suggestions for improving relationships with the homebound and special needs partners include under the Special Needs Ministry section.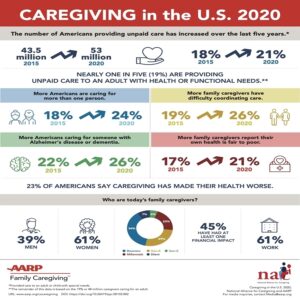 A lot of change is happening in the area of home caregiving. Over the past decade, insurance-related laws expanded the role of family members indirectly in the way that hospitals, long-term care facilities, and home health agencies receive reimbursement for services provided.
All these reimbursement programs expect family members to assume the care formerly provided by the healthcare facility. What does that mean for families? Someone must either stay home to provide the care or pay for someone else to do it. The impact is significant financially, emotionally, physically, and in all relationships. Understanding Caregivng gives you background on the the issues and insight into factors influening careing from inside and outside the home.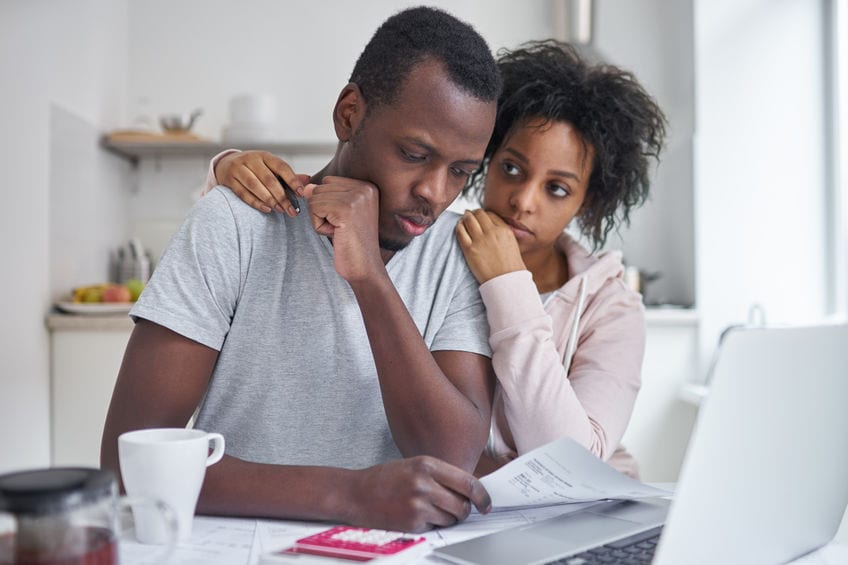 "Starting Out" as a caregiver seems overwhelming for many, with so much to learn quickly. The articles in this category guide how to change your viewpoint from looking at the "forest" to focusing on the "tree."  Narrowing your focus helps reduce stress and make the project manageable.
Learn how to assess your needs, develop a plan and implement it successfully. Approach caregiving in the same way you eat an elepahant.
"How do you eat an elephant? One bite at a time."
In addition, gain a greater understanding of how healthcare systems function and why they must have rules that seem ridiculous to those who don't work in healthcare. Sometimes understanding why something is needed helps make going along with the rules easier.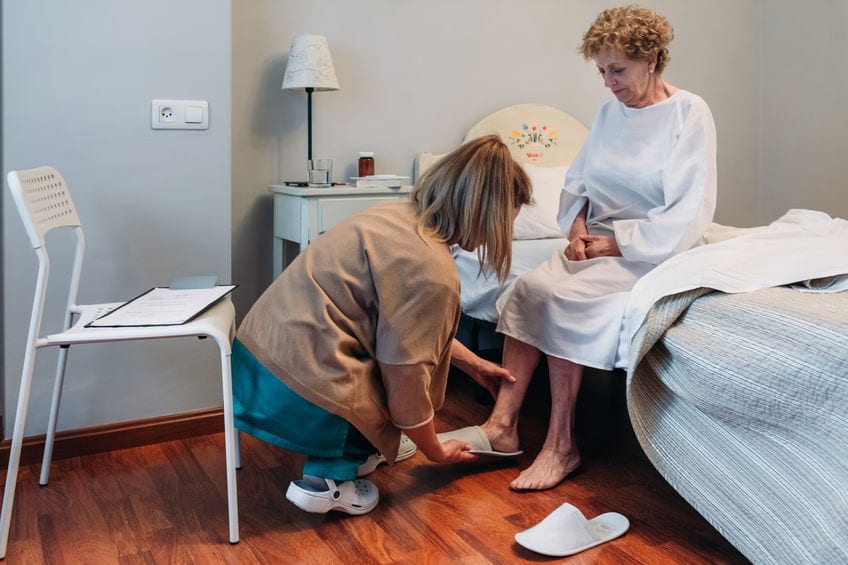 Caregiving is not limited to meeting physical needs. The caregiver must also develop new interpersonal skills to help them handle emotional outbursts, memory loss, or hallucinations.
In addition, the one receiving care often has emotional, mental health, developmental, or memory disorders with or without a medical condition. Therefore, knowing what to say and how to say it to prevent a confrontation or decrease risks of harm in other ways is essential.
Helpful guidelines and sample videos provide examples of ways to handle common behavioral challenges.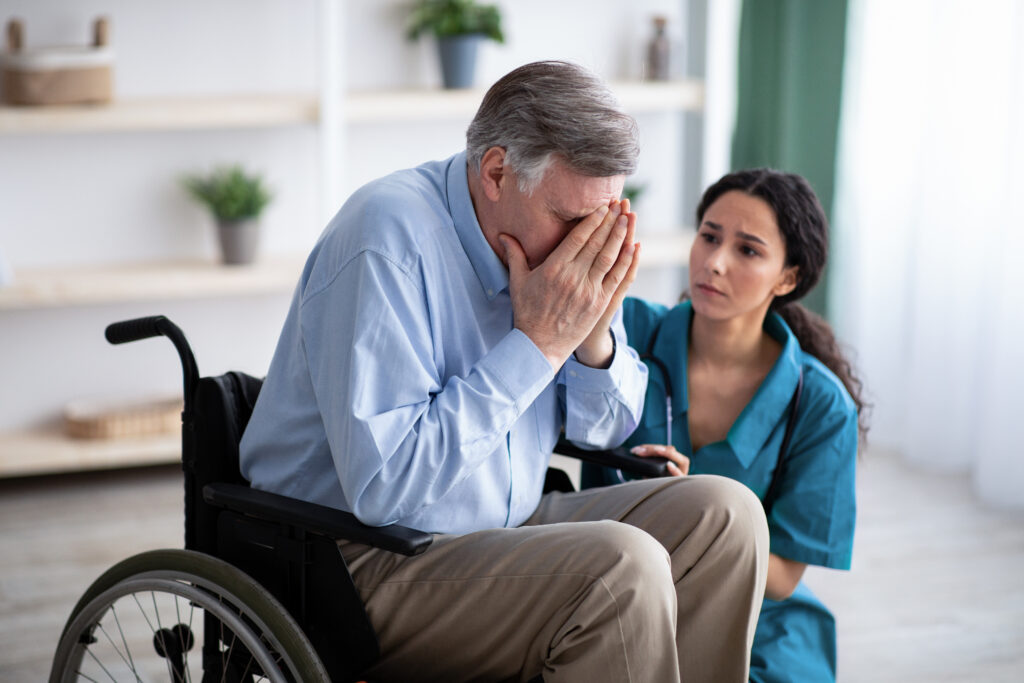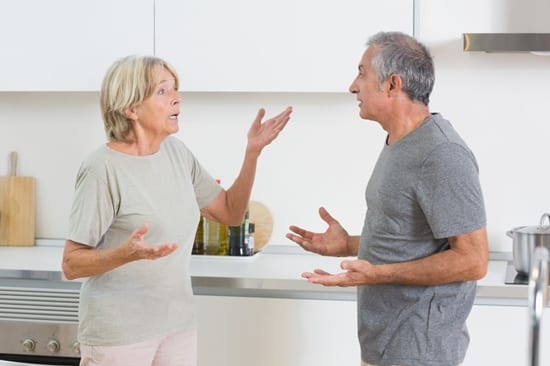 When receiving instructions at the doctor's office or during discharge from the hospital, we usually feel confident that we can manage to complete the care expectations required at home.  However, once we are home alone, trying to remember the details of those conversations, we sometime become confused about what to do when or how. Unfortunately, when that happens, offices are often closed and the person we are to contact is gone until the next day.
Knowing how difficult remembering details can be, Donna collected links to YouTube videos showing frequently needed "at home" procedures. In some cases, there are also step-by-step instructions and "beware" tips.
After adding the "how to" videos she decided to expand the section and added information on a few medical conditions and medication administration.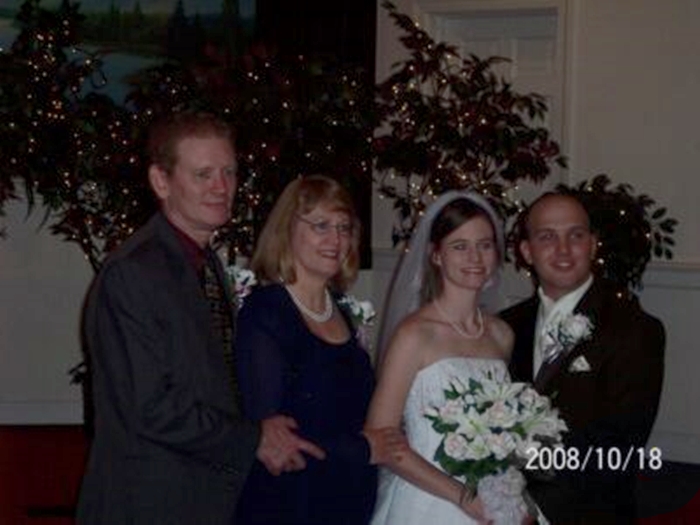 HTH creator, Donna Steigleder, shares the trials and triumphs associated with her life as a family caregiver in her "Caregiving Blogs." She knows the emotional rollercoaster of caregiving and how quickly tides can change. 
As a parent, she experienced her child struggling through childhood with "invisible" disabilities (mental and physical). Unfortunately, invisible disabilities often go unrecognized by others, even close family members, frequently creating dysfunctional family units or leading to divorce. So it did in Donna's home.
When Donna remarried, her second husband, Lynn, was diagnosed with primary progressive multiple sclerosis. She helped him adjust from being a vibrant craftsman,  musician, and singer to becoming quadriplegic. The blogs represent her emotional response to that journey. Many are reprints from www.MultipleSclerosis.Net and www.MSCaregiverSharing.com.
Having trouble knowing where to go for help? Try our resource pages.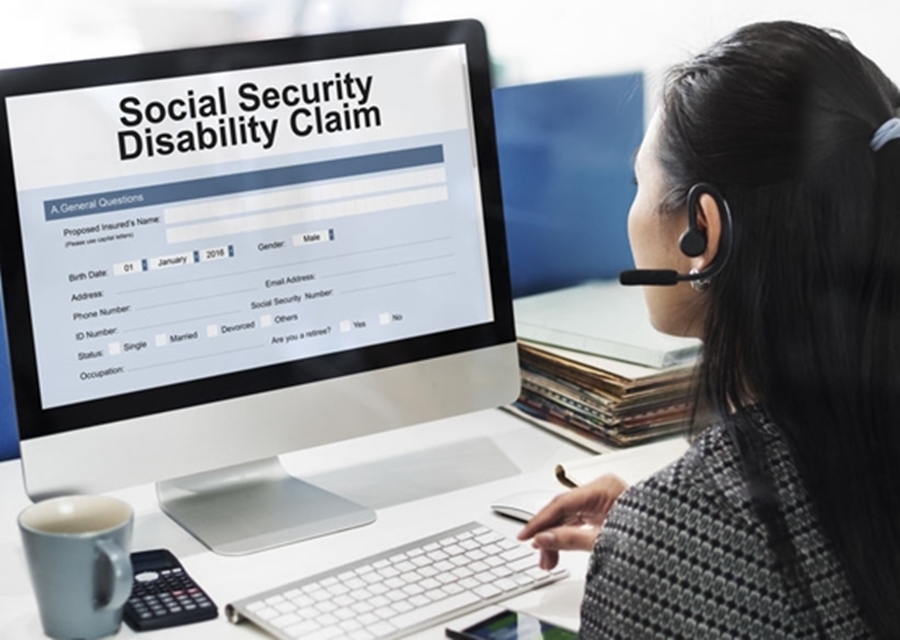 Resources Caregivers Need
1. Government Affiliated Resources – Local, state, or federal government agencies and their affiliates that provide services to or on behalf of patients or caregivers.
2. Community Supported Resources – Organizations that provide education and information about medical conditions, injuries, diseases, caregiving, or other support without charging a fee. (Note: I do not post multiple listings from the same organization for free due to space and time limitations) 
3. Services – (In Development) A list of companies providing services to caregivers useful in their daily lives or accomplishing their caregiving duties.
4. Products – (In Development) Goods, equipment, and other merchandise (medical and non-medical) that caregivers may need.
If you would like your company's services or products to appear as one of these resources, please conrtact Donna Steigleder at Donnasteigleder@hctohomecare.com for details.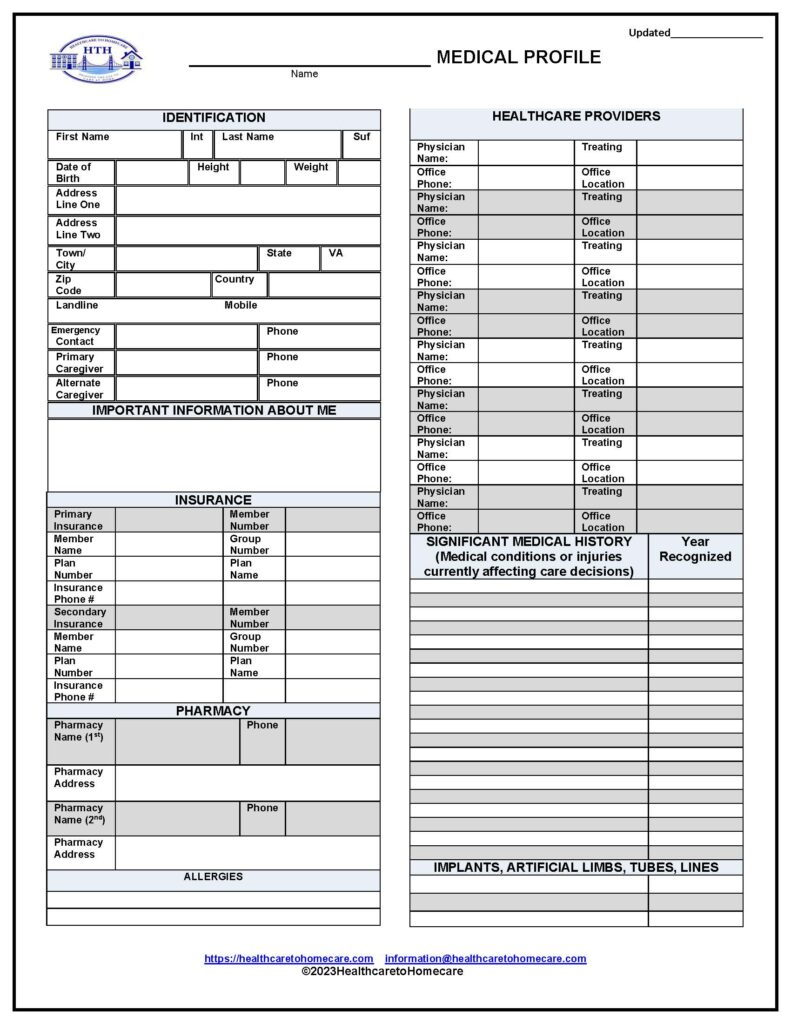 Free Medical Profile Form
Receive a free copy of a Medical Profile Form created by Donna Steigleder for her personal use. Each time she hands the form to a new healthcare provider, she receives the same comment, "I wish everyone used a form like this. Admissions would be so much easier."
Donna created the form because repeating the same information multiple times seemed to be a waste of time to her. She felt there had to be a better way. A pre-filled form that could be updated after each doctor's appointment and printed as needed was the answer. It has worked perfectly for Donna and her family members and now she wants to share it with you.
For your free copy, complete the subscription form below and check "yes" where it gives you the option to receive or decline the offer.
To clarify healthcare information presented so the average person can understand it. 
To help caregivers navigate efficiently and effectively within the healthcare system. 
To help those unfamiliar with healthcare better understand regulations, processes, and procedures.
To identify problem-solving avenues for addressing healthcare quality, safety, or service delivery concerns.
To provide encouragement and emotional support to caregivers through sharing knowledge gained, being a resource, sharing God's love, and introducing new caregivers to additional avenues of support.
To provide sample instructions and links to videos for patient care procedures sometimes performed in the home. Information may also include potential risks, how to problem-solve issues and performance tips.
To provide suggestions on becoming organized as a caregiver, including tips on finding resources, guidance on problem-solving, help with everyday routines, and providing answers on how to work with outside agencies, etc.
To provide tips on home care measures that help with the management and understanding of medical conditions and behaviors. 
Educational Purposes Only
Information provided on this website is for educational purposes only. Healthcare to Homecare offers readers healthcare information for the purpose of supporting those who provide self-care or care to others with medical illnesses or injuries and is not a substitute or replacement for legal, professional, or medical advice, care, or treatment.  Consult an appropriate healthcare team member if you have specific medical concerns or questions. If you rely on any of the information or services provided by Healthcare to Homecare, LLC, its affiliates, employees, guests, or visitors, you do so solely at your own risk. For healthcare emergencies, call 9-1-1.
For questions, email information@healthcaretohomecare.com.